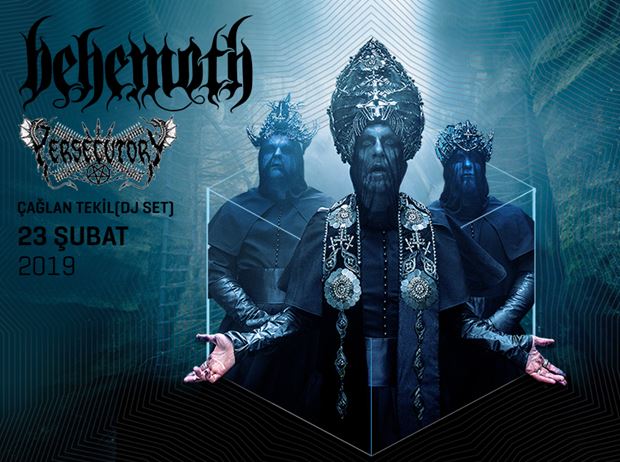 About the Event
The Polish group Behemoth, who have pushed the boundaries of black metal for the past 27 years, Istanbul-based black thrash group Persecutory and DJ Çağlan Tekil will be performing at Volkswagen Arena on February 23rd!
Behemoth:
Starting out with a more traditional black metal sound, Behemoth later combined the death metal of the 2000s with Middle-Eastern influences and created their own signature style. Made up of Nergal, Orion and Inferno, Behemoth has become a world-renowned group since 2013. Having shared the same stage with top artists such as Ozzy Osbourne, Black Sabbath, Marilyn Manson, Iron Maiden and Metallica, Behemoth also performed at Slayer's final world tour last year.
The group's eleventh and latest album "I Loved You At Your Darkest" was released on October 5th. Behemoth wanted to reidentify themselves with this album, creating a more dynamic and rock-oriented record in comparison to their other ones. The band members took the role of producers with drum co-production by Daniel Bergstrand (Meshuggah, In Flames), mixing by Matt Hyde (Slayer, Children Of Bodom) and mastering by Tom Baker (Nine Inch Nails, Marilyn Manson).
Describing their concert performance as "visually and auditorily impressive, big and uncontrollable chaos", Behemoth will take the stage at Volkswagen Arena's over-the-top atmosphere on February 23rd, 2019 as a part of the world tour of their new album "I Loved You At Your Darkest".
Opening Act: Persecutory
Combining European black metal with the 80s thrash sound, Istanbul-based Persecutory started making black thrash style music in 2014. They recorded their first EP of four songs "Perversion Feeds Our Force" in 2015 and released it under Hell's Hammer Music label in 2016. The black-thrash group combines their influence from important European black metal groups like Mayhem, Urgehal and Thunderbolt with a death metal sound. Their first album "Towards the Ultimate Extinction" released in 2017 under the Polish record company Godz Ov War Productions was quickly sold-out.
DJ: Çağlan Tekil
Well-known within the Turkish metal scene, Çağlan Tekil played an important role in spreading this music style by releasing Turkey's first fanzine magazine "Laneth" in 1991 and "Non Serviam" magazine at the end of the 90s. As one of the few heavy metal playing DJ's, Çağlan Tekil has previously performed at many festivals and stadium and arena concerts that headlined Metallica, Judas Priest and Orphaned Land. For the past 11 years, he is the editor of the magazine/book Headbang and the producer and presenter of the radio programs "Laneth" and "Oldies" that air on Radio Eksen.
19:00 Doors Open
19:00 Çağlan Tekil (DJ Set)
20:00 Persecutory
21:30 Behemoth